Service Times
Sundays
Prayer &
Worship Service 10:00 AM
(Currently services are in-person only. Some replays of services are available on our website and social media pages)
Tuesdays
7:00 AM every Tuesday morning by phone (516-387-8081)
Wednesdays
Bible Study 7:00 PM (Currently on Zoom only. For login/call in info, click here )
What to Expect
When you attend services at Living Word Church, you can expect:
– A warm and friendly welcome and a family environment!
– An atmosphere of Praise & Worship with scripturally based music
ranging from traditional to contemporary gospel and Christian
styles
– Practical Bible-based teaching in a relaxed and often humorous
environment. Our services average from 90 – 120 minutes from
beginning to end.
– Children's and Teen Ministries where our youth are taught
the Word of
God in a way that is enjoyable, practical and can Your Link Herebe
applied to their
everyday lives.
Our Mission & Vision
Thank you for allowing us the opportunity to introduce you to Living Word Church! So, what kind of church is Living Word you may ask? Living Word Church is a Bible-teaching, non-denominational church where people from all backgrounds are welcome! As you will discover while searching our website, our Vision is to help people learn how to Experience LIFE. Many people are searching in the world for the answer to what their life is all about, but the Bible shows us in John 1:4, 14, that outside of Christ, there is no life. God has a unique plan for you, and a purpose that only you can fulfill. We welcome you to join us as we discover God's true meaning for LIFE!
Our Leaders
Byron P. Franklin, Sr., Senior Pastor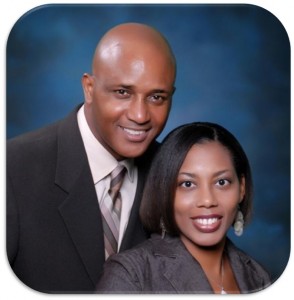 Pastor Byron P. Franklin, Sr., a native of Sheffield, Alabama, is on a mission to bring the practical message of faith and the Gospel of Jesus Christ to the world. After an exceptional career in athletics (including 7 years in the NFL) and business success, Byron dedicated his life to and established an intimate relationship with Christ. From there, he began his journey of obeying the voice of God which ultimately led to accepting the Pastoral call upon his life. Pastor Byron obtained his license to minister in 1998 at the church where he served as Associate Pastor. In 2000, God led him to join Faith Chapel Christian Center in Birmingham, AL, and submit to the leadership of his spiritual father and mentor, Dr. Michael D. Moore. In 2004, he and his wife Meriam accepted the divine appointment to pastor Living Word Church. Living Word, which arose out of the combined instruction of Dr. Moore and vision God gave Pastor Byron, is quickly developing into a ministry complex known as the "City of Truth (Zechariah 8:3). The ministry, situated on 23 acres of debt free property, has become one of the fastest growing churches in the area. Pastor Franklin is a graduate of and Trustee Emeritus for Auburn University. Together Pastor Byron and Meriam have four children, Byron Jr., Kelsie, Brandon & Bradley.
Meriam L. Franklin, COO, Minister & Youth Pastor
The youngest of six of a Pastor, Meriam Franklin was raised in a family dedicated to local mission work in Enterprise, AL. After high school, she matriculated to the University of Alabama at Birmingham, where she earned a Bachelor of Science in Biology. While attending a singles fellowship at a local Birmingham church in 1998, she made a Divine connection with her friend who would eventually become the love of her life, Byron Franklin. Having accepted Jesus as her Lord and Savior at an early age, and coming from a ministerial background, Meriam willingly accepted the call of God upon her life and began the process of developing as a leader at Faith Chapel Christian Center under the tutelage of her spiritual father, Dr. Michael D. Moore. In 2002, Byron and Meriam graduated from the Leadership Development Institute of Faith Chapel and in June of the same year became husband and wife. Together Byron and Meriam have embarked on a wonderful journey in ministry and Kingdom development. In addition to her duties as COO of Living Word Church, Meriam serves as Youth Pastor at Living Word. She is a licensed and ordained minister and teacher of the Word of God. But, her favorite job is being mom to their four wonderful children.